Alexandria Archaeology Summer Camp
Help Alexandria's City archaeologists excavate a real archaeological site! Learn professional excavating, recording, and artifact processing methods. Uncover Alexandria's buried past while protecting the City's valuable historic resources.
Ages: 12 – 15.
July 20-24, 2014. From 9:00 a.m. to 3:30 p.m.
At the Alexandria Archaeology Museum, and a real archaeological site in Alexandria (to be announced)
$400 with available scholarships. A non-refundable deposit check of $100, payable to the City of Alexandria, is required upon receipt of application to secure your reservations. The balance of $300 is due by June 1, 2015.
Come join Baroody Camps at our home base of Alexandria Country Day School this summer for a wide range of programs! We are offering our usual theme camps for rising K-rising 4th graders, many specialty camps for rising 4th-rising 6th graders, LEGO camps, a variety of sports camps, etc. Campers at the ACDS location will enjoy "water fun" once a week, and also have the option to participate in a swimming excursion at Chinquapin Rec Center once a week. This location also offers lunch for purchase. Come out and find what fits you! Purchase our summer pass for $2699 and get free before and aftercare for the entire summer!
Camps run starting the week of June 15th through August 17th. All camps are 9-3 unless otherwise noted. A complete listing, with pricing, hours, and registration information can be found at: http://baroodycamps.com/wpcontent/uploads/2012/04/BaroodySummer2015Catalogue_FINAL.pdf
5th– 9th grade
July 20th – 24th, 9:00 – 1:00
At Francis P. Hammond Middle School  
The ASA Tots Soccer program is a unique opportunity to introduce your child to soccer. The program is designed specifically for our youngest players, ages 2 through 4 years old. The classes focus on developing motor and listening skills, introducing very basic ball skills through fun activities, and exposing participants to a group environment with other children of similar age. Our main goal is to provide a fun and comfortable environment for both the children and parents. No previous soccer experience is needed. Class sizes are also limited for quality control. In addition to the Summer, Tots classes are typically offered in 6-week intervals and are offered year-round.
Email Chris Arnold at carnold@alexandria-soccer.org to be added to our email distribution list
Price: $105 per six week session
Animal Welfare League of Alexandria
Welcome to the world of animal sheltering, animal care, and local wildlife! For 2015, the AWLA once again offers summer camp for area youth to learn about the animals that live in our homes and our backyards. Campers will participate in a variety of animal-themed games, activities, and discussions.
Rising 3rd through 8th grade students can register for sessions tailored for their age group and specific interest. Full day camp sessions run from 9:30 a.m. to 3:30 p.m. half days are from 9:30 to 12:30. Each camp is a week long program.
Camp is filled on a first-come, first-served basis with no waitlist for full camps. Half day camps (open to 3rd and 4th graders) cost $150 and full day camps (open to5th ,6th ,7th ,and 8th graders) cost $300
Nine weeks of camp are being offered from June 22rd – Aug 21st
Age Range: 6-11 years old. Arcadia Farm Campers must have turned 6 before their first day of their camp week and they must not have turned 12 before June 1, 2015.
$335 per week with scholarships available and discounts for early and multi-week, sibling, and family membership registration
Registration Opens: February 2, 2015
Early Bird Registration: sign up by February 23, 2015 (11:59pm EST)
Regular Registration: sign up between February 24 and June 1, 2015.
If you are registering prior to June 1, 2015, a $100 non-refundable, per child deposit is required at time of registration. All remaining balances on Registration fees are due on or before June 22, 2015.
Round trip Transportation is available from Old Town Alexandria for an additional fee of $100.
Each session has its own focused theme. The theme guides our educational activities and allows campers to explore these farm and food topics more in depth. Our themed activities will differ from previous years save the ones Farm Campers raved about. We keep it fresh, like our veggies!
Week 1, July 6-10: Young Farmers
Week 2, July 13-17: Farm Creatures
Week 3, July 20-24: Seasonal Eaters
Week 4, July 27-31: Small Chefs 1
Week 5, August 3-7: Small Chefs 2
Art Bound Studio was created to provide art enrichment to children ages 6-12.  Our programs are designed to celebrate the joy of art exploration, while also focusing on the creative process and building skills.  Students have the opportunity to strengthen their drawing adeptness, experiment with various types of paint, pastels and clay, as well as try their hand at printmaking.  Each class has an art history component and draws inspiration from different cultures, famous artists and nature.
Art Bound Studio camps and classes are taught by Angela Lutzker who earned her M.A. from the Corcoran College of Art + Design, and is a full-time art teacher at Charles Barrett Elementary in Alexandria, Virginia.  She has also taught after-school enrichment classes and summer camps in both Alexandria, Virginia and Arlington, Virginia..
Art Exploration – Good Shepherd Lutheran Church (Alexandria)
Session 7:  August 4-8  (9:15 a.m. –  3:15 p.m.)
Ages 6-11, $330
The Art League Summer Art Camp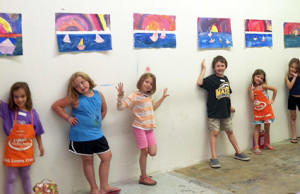 The Art League's popular weekly Summer Art Camp begins the week of June 22nd and runs through August 22nd In addition to our basic Art Camp, several media specific camps are offered throughout the summer. Camps are available for ages 5–15, with full day camps running from 9:30- 3:30 and half days either on a morning schedule of 9:30 – 12:00 or an afternoon schedule of 12:00-3:00. Price varies on camp length and age range, with most camps falling between $150 – $200 per session. The Art League also offers an extensive array of summer art classes, most 3 to 4 hours long, once per week.
A full catalog of offerings is available here: http://www.theartleague.org/school/search_courses.php?con_term=any&meridiem=any&days=any&category=Camp&teacher=any&start_date=&end_date=&keyword=&image2.x=24&image2.y=16#camps
The theater offers half-day, theater-based summer camps for 3-6 year olds right in Old Town at Downtown Baptist Church. The camps are divided into two age groups: Creative Drama for ages 3-5 and Beginning Acting for ages 5-6. Creative Drama is offered in weeklong sessions from June 22nd – August 3rd. Beginning Acting is offered the weeks of July 6th through August 3rd.
All camps run Monday–Friday, 9:30 am –12:30 pm and cost $170 per week.
Who:  For Boys and Girls Ages 4 – 8 years of age
When:  Session I    –  June 23rd – 27th,  (Ages  4 – 6 years)
Session II   –  July  7th – 11th,     (Ages  6 – 8 years)
Session II   –  July  14h – 18th,    (Ages  4 – 8 years)
Where:  Alexandria Bible Church , 1302 West Braddock Road,  Alex, Va  22302
Fee:  $194.00 per camp Week. NO registration fees.
At Alexandria Country Day School, 2400 Russell Rd.
June 16th – August 22nd
Come join Baroody Camps at our home base of Alexandria Country Day School this summer for a wide range of programs! We are offering our usual theme camps for rising K-rising 4th graders, many specialty camps for rising 4th-rising 6th graders, LEGO camps, academic enrichment camps, a variety of sports camps, etc. Come out and find what fits you!
Beverley Hills Church Preschool
BHCP Summer Camp is for children ages 21/2 to 5.  Children must be 2 by December 31, 2014. We have three classes and group children by age.
The weeklong camps, directed by our studio teacher, offer campers a summer experience closely aligned with BHCP's Reggio Emilia educational philosophy. Campers will enjoy BHCP's unique natural playground and will have the opportunity to engage in a large variety of materials experiences in BHCP's beautiful air-conditioned classrooms.
Camp runs Monday through Friday each week (with the exception of July 3rd, when camp will be closed). The youngest children will meet from 9 a.m. to 12 p.m. (3 hour program). The two older classes meet from 9 a.m. to 1 p.m. (4 hour program) and campers bring their own lunch. Daily snack will be served to all campers and no parent co-oping is required.
The 2015 summer camp sessions are:
| | | |
| --- | --- | --- |
| Session I | Locomotion: Things That Go | June 22 – July 2 |
| Session II | Animals | July 6 – July 17 |
| Session III | Science | July 20 – July 31 |
Camp Meeting Times
The younger children (ages approx. 21/2 – 31/2) meet Monday – Friday: 9 a.m. – 12 p.m. The older children (ages 31/2 – 5) meet Monday – Friday: 9 a.m. – 1 p.m.
2015 BHCP Camp Tuition
| | | | |
| --- | --- | --- | --- |
| | Session I | Session II | Session III |
| 3-Hour |  $300*/$350 |  $335*/$385 |  $335*/$385 |
| 4-Hour |  $395*/$455 |  $440*/$500 |  $440*/$500 |
*BHCP Families receive tuition discount for summer camp
Registration
Priority Registration for BHCP Families ends March 6, 2015.
Priority Registration for returning BHCP Camp families ends March 13, 2015.
All other applications processed on a first-come, first-served basis.
Bishop Ireton offers campers the opportunity to participate in sports and the arts while developing individual and group skills and fostering a love of the activity. Each camp is conducted by a high school certified coach/director – with the help of student counselors -providing individual and small group instruction and constant supervision. Meals will be provided for full day camps at no extra cost by Sage Dining service. Each camper will receive a camp t-shirt
Camps are offered for grades 1-12, running Monday – Friday, 9:00 – 3:00. Prices vary depending on age and activity with most camps coasting around $300 per week. An extensive list of offerings can be found: http://www.bishopireton.org/summer-camps/summer-camps
Our coeducational Day Camp Program from June 15th– Aug. 7th is offered to children ages 3 – 13:
Mini Camp Full Day and Mini Camp Half Day for Preschool children
Junior Camp for children grades K – 4
Senior Camp for children grades 5 – 8
The Day Camp operates from 8:00 a.m. to 4:00 p.m. daily (with Extended Day available), and includes a variety of activities to meet the interests of our campers, as well as challenge them.  We are confident that your child will enjoy the activities that we offer: daily swimming with certified lifeguards, art, sports, music, dance, technology, nature, drama and more.  Our staff members use an effective blend of gentle encouragement and support to help each and every child achieve his or her potential at their own level.  You will see your child's increased self-confidence and pride – the best gifts that we can give our children! Specialty camps, private lessons, and a Teen program are also offered.
Morning care is available from 7-8 and aftercare from 4-6.
Prices vary and can be found at the following: http://www.browneacademy.org/summer_camp/registration/index.aspx
A full program catalogue is available here: https://campscui.active.com/orgs/BrowneAcademy#/selectSessions/804304
Burgundy's Alexandria Summer Day Camp offers daily swimming, diverse activities, and special events on Burgundy's 25 acres that include forest, field, pond, barn, amphitheater, and state-of-the-art facilities.
Camp programs include sports, science, performing arts, visual arts, and photography for campers aged three years and eight months through twelve. Rising eighth through tenth graders also may participate in Burgundy's counselor-in-training program that provides experience for those interested in applying in subsequent years for a junior counselor position.
Camp hours are 8:30 a.m. to 3:00 p.m. Morning Extended Day begins at 7:00 a.m., and afternoon Extended Day is available from 3:00 to 6:00 p.m. Bus transportation is also available.
Summer 2015 sessions begin the week of June 15th and run through August 7th.
Pricing is as follows:
The Senior Sessions (2 weeks long) are $1,565 each.
The Junior Session (1 week long) is $910.
15–August 8, 10:00 a.m.–5:00 p.m. Monday–Friday
During this two-week intensive, young actors dive head first into the world of the greatest playwright in history: William Shakespeare. Under the guidance of theatre professionals, participants unravel his plays with text analysis; transform into Shakespeare's characters through voice, movement and improvisation work; wage battles against mortal enemies with stage combat; and develop fundamental acting skills using classical theatre techniques. To culminate each session, participants stage a performance for friends and family at the Shakespeare Theatre Company.
Age Groups
Poppets 7-8
Groundlings 9-11
Young Players 12-14
King's Company 15-18
Further scheduling information is available here: http://www.shakespearetheatre.org/info/education/expand-your-knowledge/camp-shakespeare/camp-faq
Advanced Camps, accepted by audition only, are also available during two sessions:
King's Company June 29–July 18
New! Young Players July 20–August 8
Come explore with The Campagna Center's Early Childhood Programs at the 2015 Summer Safari Day Camp.  Explore a different safari theme each week!
Ages 0 -5
Session I (June 29 – July 31, 2015)
Session II (August 3 – August 28, 2015)
George Washington Middle School, 1005 Mount Vernon Avenue, Alexandria VA 22301
ELEMENTARY LEVEL (AGES 5 – 12)
"OPERATION EXPLORATION"
This year's Campagna Kids Summer Camp theme is "OPERATION EXPLORATION."  Activities include field trips, swimming, museums and more.  Included with your child's registration is breakfast, snacks and a t-shirt.  Lunch is not provided.  For a sample daily schedule of your child's day, visit here.
Session I (June 29 – July 31, 2015)
Locations:  Maury Elementary School and Samuel Tucker Elementary School
Session II (August 3 – August 28, 2015)
Location:  To be determined (TBD)
DAYS AND TIME
Monday through Friday, 7 am to 6 pm
The cost for summer camp is based on a sliding fee scale.
Clio's Kids: A History Mini-Camp
Summer Camp will return in July 2016. Please contact us if you would like to be added to next year's mailing list.
Clio's Kids introduces children to American history and life in historic Alexandria through artifacts, storytelling, singing and crafts, "old-fashioned" games, and visits to nearby historic places. Our theme for 2014 is "Alexandria: Then and Now." We'll learn about life in Alexandria – past and present!
Campers should come prepared for outside activities each day, including sturdy walking shoes and clothing appropriate for the weather.
AGES: Children ages 5 – 7
WHEN: July 29, 30, & 31, 2014, 9 a.m. to noon (Tuesday, Wednesday, and Thursday)
WHERE: The Lyceum: Alexandria's History Museum, 201 S. Washington Street, Alexandria, VA 22314
COST: The fee is $105 and includes snacks and souvenirs.
COST: Fee: $150
Challenger Sports British Soccer
Challenger British Soccer Camps provide players of all abilities with the rare opportunity to receive instruction from international experts. Each day includes foot skills, technical drills, tactical practices, small-sided games, coached scrimmages, and a tournament. The staff also provides lessons in respect, responsibility, integrity, sportsmanship and leadership. Register on-line 45 days prior to camp to receive a free ball & soccer jersey! Full Day campers will swim in the afternoons.
Alexandria Soccer, options for ages 3 – 18 as follows:
First Kicks • 3–4 year olds • 1 hour per day
Minisoccer • 4–6 year olds • 1.5 hours per day
Half Day Camp • 6–16 year olds • 3 hours per day
Full Day Camp • 10–18 year olds • 6 hours per day.
Golden Goal • 6–14 year olds • 2 hours per day • Monday–Thursday
Team Camps • All ages • 3 or 6 hours per day
Pricing and further information found on camp-by-camp basis here: http://www.challengersports.com/faqs.aspx
City of Alexandria Summer Camps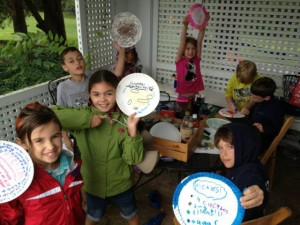 Ages 2 – 18
Extensive offerings based on age, activity, and skill level—see the linked PDF for program-specific pricing, dates, and further information.
At City of Alexandria Summer Camps, a lifetime of rewarding memories awaits each child. Activities include swimming, team sports, crafts, environmental activities, games and field trips. Children are supervised in a friendly, safe environment. Counselors create an atmosphere of enthusiasm, support and trust – actively participating in all activities. Every day is an adventure!
Del Ray Artisans invites young campers to spend a week creating art with professional artist instruction. All artist supplies, as well as lunch and snacks, are provided. There will also be a one-day only gallery show held on July 25th and August 1st to show off the students' work from their week of camp.
Art Camp will be at the Del Ray Artisans gallery at the Nicholas A. Colasanto Center, 2704 Mount Vernon Avenue, Alexandria, VA 22301. The gallery is handicap accessible. For more information, contact the Art Camp Administrator at ArtCamp@TheDelRayArtisans.org or the Director of Youth Programs at Youth@TheDelRayArtisans.org.
For Ages: 8-14
WEEK ONE: July 20-25, 2015 from 9am-4pm daily
(with gallery show on Saturday, July 25, 1-3pm)
WEEK TWO: July 27-31, 2015 from 9am-4pm daily
(with gallery show on Saturday, August 1, 1-3pm)
Prices:
Early Birdie (before June 1) – $275
Standard (after June 1) – $300
Scholarships available
Del Ray Performing Arts 2012 summer dramatic arts and music camps
The School for Rock Camp is an opportunity for those 7-16 to experience the many challenges of organizing and working in a  rock band. Students learn teamwork skills, choose songs, learn them,  record and perform a live performance at the end of the week for family and friends. A video and recording of the week's performance and highlights will be given to each student.
Camps start the week of June 22nd  – Aug 21st
All camps run daily, 9-3 with half-days available during some sessions
Maximum of 5-kids per camp!
Tuition $475, $125 for half-day options
This summer your child can have fun and learn! Since 1993, Fairfax Collegiate has provided students with challenging and engaging courses in writing, reading, math, science, public speaking, test prep, robotics, programming, digital arts, and filmmaking.
Courses in Alexandria are hosted through the Beth El Hebrew Congregation (3830 Seminary Rd. Alexandria, VA 22304)
Camps run June 29th – August 14th, 9:00 -1:00 daily in two-week sessions
An extensive listing of offerings and pricing information can be downloaded here: https://bethelhebrew.org/sites/default/files/uploaded_files/learning/jccnv_-_beth_el_eclc_registration_2015-2016.pdf
 Fairfax County Parks and Recreation
There are tons of summer camps being offered to residents and non-residents of Fairfax County through their Parks and Recreation Dept. such as these great classes right here in Alexandria:
Interests include: Soccer, Nature, Animals, Art, Game Design, Film, Kayaking, Chess, Biking, Ice Skating, Swimming, Acting, Lego Engineering
Utilize their built-in search engine to find further information on specific camps, tailored to your child.
This basketball camp for kids from 1st-8th grade will take place at Episcopal High School
Camps run from June 22nd – August 3rd
Ages 5 -11
Monday – Friday, with all camps starting at 9:00
End times vary, with most camps lasting half-days
Themes and pricing also vary per week but all camps take place in Green Spring Gardens Park
Camp-specific information can be found on the side bar of the website
Mini-camp: June 1-5 (half day only!)
Week 1:    June 8-12
Week 2:    June 15-19
Week 3:    June 22-26
Week 4:    July   6-10
Week 5:    July 13-17
Week 6:    July 20-24
Week 7:    July 27-31
(no camp week of July 4th)
The camp is being held at Episcopal High School, Alexandria, on 12 outdoor courts. In case of persistent rain we use the field house (3 courts) and the adjacent squash courts.
Full day sessions start at 8:30 am and end at 3:00 pm. Lunch is provided (a choice of warm or cold food is being served in the EHS dining hall).
Half day sessions (subject to availability) end at 11:30 am.
Cost:
$415 per week for the full day session
$235 per week for the Half day session
Hilltop Junior Camps and Programs focus on building better athletes in a fun, friendly and competitive environment. Our programs are designed to help young players develop the movement and golf skills they need to play for a lifetime. We emphasize solid fundamentals, rules, etiquette and on course play.
Junior Camps are open to boys and girls, ages 6 to 11. Players must be at least 6 years old by June 1 in order to participate in camps.
Tweener Camps are open to boys and girls, ages 12 to 15. Players must be at least 12 years old by June 1 in order to participate in camps.  Each camp is limited to 12 registrants.
The summer 2015 program runs from June 29th – August 10th.
Camps meets 9-12pm, Monday thru Thursday.
Cost: $230 per camper.  Camp Alumni: $215 before June 1st.
Early Bird: $215 before May 1st.  Multiple Camps/Kids: $215 all times.
Mouse in House Summer Camp – Ages 5 – 7
Express yourself and find your passion in the performing arts with a daily schedule of theatre games, creative movement, dance technique, and visual arts and crafts projects. Students prepare a mini-performance about an unlikely friendship between mouse and reclusive poet Emily Dickinson inspired by the book by Elizabeth Spires, "The Mouse of Amherst."  Come stretch your muscles, create visual arts & crafts,  and find a whole new way of moving while using your imagination.  By the end of the week you'll be a star.
July 13 – 17
9 am – 3 pm
Fee: $300 – 5 days
Extended Day PM  3 pm – 5 pm  $100
Stop, Drop & Roll Summer Camp – Ages 7 – 9
Have you ever gone to a ball game and marveled at the timing and chance moments of teamwork?  We'll create a performance for family and friends and present on Friday. Stop, Drop & Roll energizes to create a dance theatre work that simulates competition.  The day includes dance, performance preparation, visual arts, literary arts and theatre games.
August 3 – 7
9 am – 3 pm
Fee: $300 – 5 days  
June 22 – August 30, 2015
Language Stars summer programs provide an opportunity for increased language exposure through a variety of fun and engaging activities. Play-based interactions in a full-immersion environment allow children to build their foreign language the way a native speaker does. Enroll in a combination of camps and classes to maximize your child's learning! Save money with our multi-program and pay in full discounts!
Classes offered in Spanish, French and Mandarin and Arabic. Camps are for kids from 3 to 8 years old and classes are offered for kids from 1 to 10 years old, offered in week-long and hourly formats. Further information can be found on their language-specific, pull-down tabs.
The Little Gym of Alexandria at Van Dorn
Forget the bug spray and the week-long commitment. Day camp for kids at The Little Gym of Alexandria at Van Dorn is as great as you'd imagine. Held during vacation times when school's not in session, our Alexandria seasonal camps provide kids with giggle-filled relief from the winter doldrums or summer heat. The Little Gym camps combine physical activity and games with arts, crafts and special events. Each week offers an interactive learning theme and each day brings a different, creative lesson plan. Plus, flexible scheduling options allow you to sign up for several weeks, a single week or even just a day at a time.
Daily camps for ages 3-8 yrs are offered from June 9th– August 29th. Fun Themes this year includes: The Search for Rainbow Castle, Gerty, the Good Mannered Gorilla, The Treasures of Magical Mountain, Green Beard's Pirate Ship, The Dragon's Lair Slumber Party, The Neat Ninja League!,Cheerleading, The Race to Outer Space!
The Little Theater of Alexandria
In a nurturing environment with limited class sizes and experienced teachers, LTA has something for everyone. Our curriculum includes fun theatre games that help our students learn to think fast. Children expand their theatre vocabulary through the working process of putting on a show. Our musical theatre program features live accompaniment, dance instruction or creative movement, vocal instruction, auditioning processes, and advanced performance techniques. We encourage each child to "own" their experience from start to finish. Above all, each child is respected and valued as an individual and end the session with a sense of accomplish for a job well done.
Classes offered for children ages 3 years old- 12th grade, running from June 13th – August 31st
A 10-day flex pass is just $295 for members and $330 for nonmembers. You can also purchase camp days by the day
Weekly Camp Themes:
June 15th-19th: The Search for Rainbow Castle
June 22nd-26th: Mid-Summer Night's Garden Party
June 29th- July 3rd: The Treasures of Magical Mountain
July 6th-10th: Green Beard's Pirate Ship!
July 13th-17th: The Dragon's Lair Slumber Party
July 20th -24th: The Neat Ninja League!
July 27th -31st: Cheerleading!
August 3rd-7th: The Race to Outer Space!
August 10th-14th : The Secret Clue to the Baby Animal Zoo
August 17th-21st : Hawaiian Hide & Seek!
August 24th-28th: The Five Wonders of Foxhole
August 31st -September 4th: The Super Grown-Ups
Classes: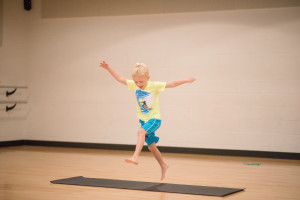 Creative movement class starts at age 2 (with a caregiver) and goes up to age 6. In this youngest class kids learn movement and parents take away concepts to use at home. This class also helps kids learn the structure and organization of being in a class. Local Motion Studio brings in multi-cultural music, incorporates props, collaboration and coordination into all of their movement classes.  The 5-6 year olds even begin to create choreography. Also as part of Yoga. Children will learn in a fun environment basic mindfulness, breathing, meditation and asana.
All of their summer classes are set up so that you can choose to attend for 8, 9 or 10 weeks. It's all about flexibility for your summer schedule!
Camps offered this summer at Local Motion are week-long camps that are two hours in length each day and will enrich your child's body and mind.
Yoga Camp incorporates storytelling, creative movement, games and crafts. This class is offered for children ages 5-7.
Dance Camp brings together exploration of movement and culminates in an original performance piece they will perform at the end of the week. This camp is for children going into grades 1st through 4th.
Theater Camp will be the final camp offered during the summer and it is also for children going into grades 1st through 4th. In theater camp children will work together in games, improvisational theater, playwriting and movement activities to help develop basic theater skills of vocal expression, storytelling and character creation.
In order to provide the best environment for our campers, our locations are small, with 10-40 campers per location. As such, we have dozens of locations through out the suburban DC area. Kids explore science topics in a hands-on, inquiry-based environment. Learn the science behind crystals, physics, environmental science and much more! Kids can become Jr. Forensic Scientists, build their own robots, or even launch rockets!
Varying themed-camps for 1st – 6th graders from June 15th – August 31st
Half-day camps: $190 per week
Full-day camps: $325 per week
Red Hot Robots Materials Fee: $20
Hours:
Half-day camps:
Morning:  9AM-12PM
Afternoon: 1PM-4PM
Full-day camps: 9AM – 4PM
Extended care is available as follows:
AM Care:  8AM – 9AM    $50 per week
PM Care:  4PM – 6PM    $100 per week
AM and PM Care:           $125 per week
Camps locations alternate by week between Mt. Vernon Rec Center or All Saints Chuch
Further scheduling and theme information is available here: http://dc.madscience.org/camplocations.aspx
MathTree makes math fun for children ages 6-15 at all levels through our summer camp programs, newsletter, and online math game, Apple-It.
Teachers trained by MathTree lead small groups and introduce math in new and exciting ways. Children often do not realize they are learning as math is delivered in small, interactive chunks. Our campers confidence grows as they successfully understand the "why" and "how" of math, and they gain a head start on new material they will learn during the upcoming school year.
Camps at the Alexandria campus (Burgundy Farm Country Day School) are offered July 13th- 24th with extended day available. $360 per week on a half-day schedule: 8:30 -11:30 or 12:00 – 3:00
Mount Vernon Community Children's Theatre
Camp is held at Heritage Presbyterian Church 8503 Fort Hunt Road, Alexandria VA 22308
One-Week Sessions : All Day Drama
Session 2 : July 20th – July 24th
9:00-5:00 : $365
Two-Week Sessions
AM Drama (9:30-12:30) : PM Music (1:00-4:00) : Before/After Care
AM – $350 : PM – $375 : Stay All Day! – $700
Session 1 : June 29th – July 10th
Session 3 : July 27th – August 7th
Session 4 : August 10th – August 21st
A Midsummer Night's Teen Camp
One-Week Session
July 20th – 24th : 6:00-9:30pm : $200
Extensive programing varies by location
Full schedule can be found at the following: http://www.novadaycamps.com/wp-content/uploads/2012/02/Spring-2015.pdf
Our coaches are highly-rated professional chess instructors. We taught the 2008 national 1st & 2nd grade champions and the 2009 national kindergarten champion. Campers are divided by skill level and each receives a T-shirt and tournament-style chess set. Learn openings, tactics, endgames and study master games. Full-day campers have lunch and recess.
Charles Houston ReCenter 905 Wythe St, Alexandria, VA 22314
Ages 5 -13
Pricing: $325/$350
Further Information: https://rec.alexandriava.gov/webtrac/wbwsc/rt14prd.wsc/wbsearch.html?wbsi=c41372d7-344b-9c89-e511-590d8b3221f4
Summer Camp 1
July 6 – July 10
Time: 9AM – 4PM
Summer Camp 2
August 24 – August 28
Time: 9AM – 4PM
Summer Camp 3
August 31 – September 4
Time: 9AM – 4PM
St. Stephen's & St. Agnes School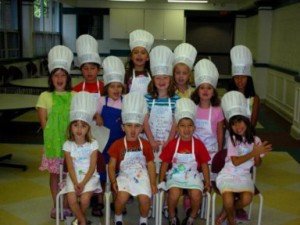 Ages 3-18, June 15 – August 14th
Full and half-day options, meals not provided but extended day services available
A week-by-week schedule is available at the following: http://www.summertimes.org/Page/Our-Programs/Camps-By-Week
More than 130 different sessions to create an exciting and fun summer for your camper.
Options include: All-Sports, Basketball, Boys of Summer Baseball, Civil War, Football, Junior Musical Theater, CSI Investigations, Eco-Adventures, Hunger Games, Junior Veterinarian, Lacrosse, Football.
In addition to always offering multiple sessions of our most popular camps, a wide variety of new specialty camps are offered each year. Your camper can see new sights in Washington, D.C., expand artistic horizons in an art or filmaking camp, learn about computer programming or jewelry making, challenge their abilities in one of our many sports camps, try their hand at flying a quadcopter, or participate in a variety of fun activities in our traditional Day Camp.
*Discount available for first-time campers
Summer Art Camp with Luisa Tio
Camps offered from June 29th – July 24th. Hosted at Del Ray United Methodist Church, 100 E. Windsor Avenue, in Room 202.
Grades 1 -6.
$345 per session with aftercare available at additional charge
Summer 2015 themes are Architecture, World Art, Painting, and Modern Art with field trips revolving around the theme
Ages 3 – 5
One week sessions: 6/12 – 8/28
10am -12:30pm
$250/week
Themes vary per week.
TopGolf Summer Academy is an exciting program filled with all of the components that make up the great game of golf. From chipping, putting and full swing to the rules and etiquette, your kids will learn everything they need to know about the game of golf. Each Academy is designed and taught by our Golf Teaching Professionals in a fun, relaxed atmosphere. Summer Academy is staffed with a low student-to-instructor ratio to ensure each junior golfer receives in-depth, hands-on attention while he or she develops a winning golf swing.
1 Registration Per Child Includes:
Entry to the Academy
TopGolf Play and Golf Instruction
One T-shirt
Golf Glove
Water Bottle
Certification of Completion
Lunch
Academy start time is 9 a.m. Child drop off: 8:30-9 a.m., Lunch: 11:30 a.m. -12:00 p.m., Child pick up: 12:00-12:30 p.m.
Ages 6-12
June 16th through August 22nd
$199 per week
Washington Sailing Marina Summer Sailing Programs
For boys/girls ages rising 3rd graders – 15 years of age
Located in Alexandria, Va.- on the GW Parkway.
All camps run Mon-Fri 9:30am to 4pm-includes five 6 ½ hour sessions (32.5 hrs). All camps meet Rain or Shine.
Hands-on experience is the best way to learn to sail, so our emphasis is on learning by doing. Children will be sailing 90% of the time (weather permitting).