Tomorrow, August 1st from 6-9 p.m. is First Thursday – Did You Know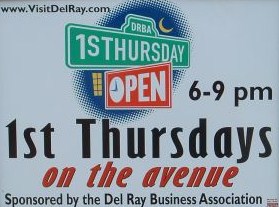 The Del Ray Business Association will be sharing interesting facts about local businesses and Del Ray through a scavenger hunt and educational demonstrations.  For the Scavenger Hunt, pick up the clues and map at 6pm at the Farmer's Market. Find the answers by visiting local businesses and their tables along the Avenue. Seichou Karate, Del Ray Variety, Rich Rosenthal Brincefield Manitta Dzubin & Kroeger, A Shot in the Dark, The Plannery, Nanny Next Door, Jason Fuchs of Wells Fargo Advisors, Del Ray Artisans, and Sediment Press will be participating.
Mount Vernon Community School will be the featured non-profit of First Thursday and will have a booth at the Farmers Market. At the booth you can:
■Purchase MVCS t-shirts
■Sign up to join/renew your PTA membership
■Drop off "Boxtops for Education"
■Register your Giant, Target, Safeway and Harris Teeter cards so MVCS can earn money with each purchase
■Get the latest on the MV Big Flea and other PTA programs and activities
■Learn how to become a community partner
■Donate school supplies
There will also be demonstrations at the Farmer's Market Lot starting at 6:30 Turn Your Favorite Bar Soap Into A Liquid Soap (Truly Life) 6:45 Karate Student Demo (Seichou Karate) 7:15 A Skit (Del Ray Variety)
Many businesses will have tables set up along Mt. Vernon Avenue. Many will have fun activities and demonstrations. Get your face painted at Nanny Next Door's table near A Show of Hands. Watch Meghan from A Shot in the Dark demonstrate the rule of thirds at A Shot in the Dark's table near the Farmer's Market.