This Saturday is Trick or Treat with the Boutiques in Old Town Alexandria!
Thirty-seven stores in Old Town will be handy out treats of all sorts to you and your little ones. The event runs during regular store hours from 11 a.m. to 6 p.m.
This is such a fun event and a great way to spend the day as a family.
Many of the Old Town Boutiques will be having special events celebrating Halloween!
At Pink and Brown you can have your child's photo taken in costume on Halloween and win major prizes!  On Halloween (October 31) from 11 am to 5 pm. Bring your child into the store in their favorite costume for the free photo and you will be automatically entered to win a $100 Pink & Brown gift card. Pictures will be posted in store and on Facebook. Encourage your friends and family members to vote for your child's photo starting on November 2. The winner–the child with the most votes–will be announced on November 10. Spend $25 or more at Pink & Brown on October 31 and you will automatically be entered to win a gift basket worth $200.
Hooray for Books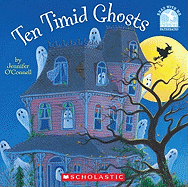 will have an author event on Saturday from 2-3 p.m. They are pleased to have author Jennifer O'Connell in the store, just in time for Halloween. Her book Ten Timid Ghosts is a delightfully spooky counting book that teaches children how to count backwards. This activity is for kids ages 3+
Monday's Child will be offering a bonus 20% off all day Saturday!