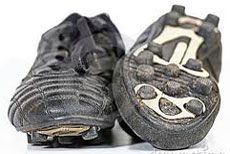 Del Ray Baby will host an informal soccer exchange to help out our community. If last season's cleats are a bit too tight please join us to exchange them for a larger pair. We'll be working on the honor system.  Everyone is invited. Please tell your friends and teammates. If you bring a pair of shoes, you may take a pair.
How It Works
Clean your out-grown cleats, tie the laces together and clearly label with size.
Place your old clean cleats in the appropriate size location.
Take home the pair that you need.
Location
Mount Vernon Community School/Recreation Center on Mt. Vernon Ave. on the outdoor basketball court (Across from Los Tios)
Time & Date
Monday, Sept. 15th at 6 p.m.
Other Notes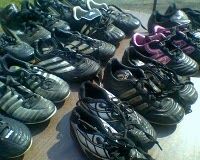 Please

clean

cleats up before bringing them
If the cleats have holes or broken soles please don't bring them
Please only soccer cleats — no baseball or American football
We look forward to seeing everyone!