Today is First Thursday: "Art Walk on the Avenue"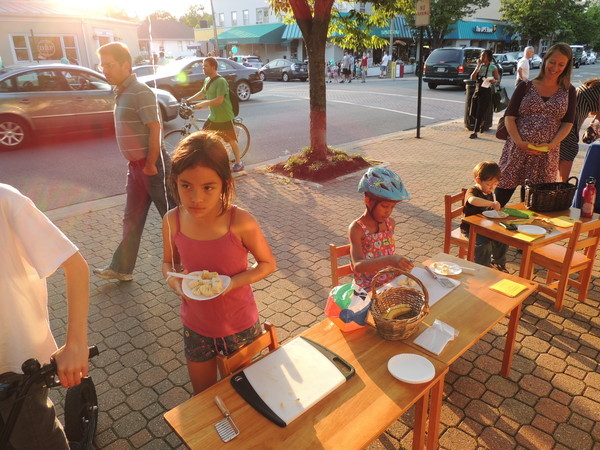 Come watch artists work their magic along Mount Vernon Avenue. The celebration runs from 6 p.m. to 9 p.m. and features art demonstrations and live music. The Del Ray Business Association, which puts on the First Thursday celebrations, hopes to have an artist – or two – on every corner including local celebrity chef Will Artley who plans to show off his culinary art.
Other artists expected to attend the event include:
Choreographers Collaboration Project which will dance outside A Show of Hands at the corner of E. Del Ray and Mount Vernon avenues.
Sediment Press will demonstrate how to make postcards.
Lily Beach – face painting
Tessa Barsic – oil painting
Eric Nelson will demonstrate painting on mylar outside Artfully Chocolate.
Ginny Filer – photography, outside Bean Creative.
William Mansfield – banjo
Matthew Harwood – architect turned artist
Lisa Schumaier – artist
Robin Kuprewicz – jewelry artist
Mary Jane O'Loughlin will demonstrate how to put together a book.
Mary Exline – watercolors
Maria Teresa Balda – hair bows
Paula H. Wulff
Marcia Toepfer – watercolors
Joyce Wagner – pressed flower cards
Anne Marie Houston – photography
Renee Rutkowski – glass bead making
Sally Fernandez – sewing/embroidery
Art League artists
Two singing groups also will take turns performing at the Del Farmer's Market starting at 6:30 pm. First up, Venus d Minor, followed by Jubilee Voices at 7 p.m. The groups will trade off every 30 minutes until the final performance ends at 9 p.m.
The Del Ray Montessori will be doing a cute art project for children in front of Bean Creative.
Friends of Karen Graf are sponsoring a celebration of the arts and the Olympics by creating an international flag. This art project will be led by Maury Elementary's art teacher, Luisa Tio. This is an activity for all ages. Get ready to get messy with paints and markers! Also, face painter Barbara Scheeler from Let's Make a Face will be there from 6:30pm to 8:30pm and there will be a bouncy house! At the Bean Creative lot (2213 Mt. Vernon Avenue)
This month, First Thursday organizers are spotlighting The Child & Family Network Centers, a local nonprofit that provides education and related services to low-income children. People are encouraged to donate art supplies to the group at a tent set up at the Del Ray Farmer's Market at the corner of Oxford and Mount Vernon avenues.