It's time for one of Del Ray's signature events; Art on The Avenue!
This is the 18th year of the art festival that takes over Mount Vernon Avenue. The festivities go from 10 a.m. until 6 p.m. starting at Bellefonte Ave. and stretching down to Hume Ave. (right where Mt. Vernon runs into Commonwealth Ave.)
Over 340 artists and craftspeople set up along Mount Vernon Avenue to display and sell their work.
Here's the list of free children's activities: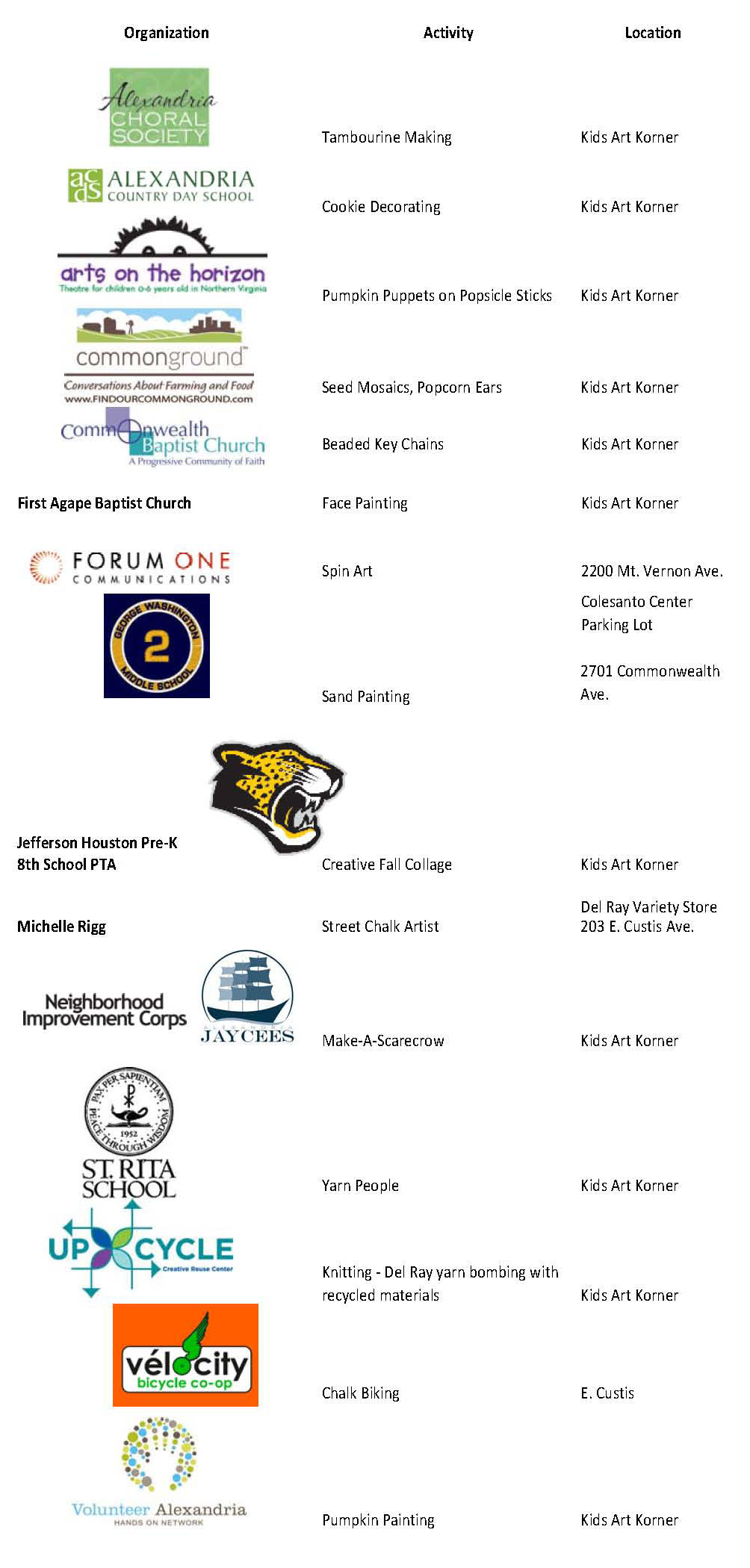 Art on the Avenue hosts four stages that are packed with entertainment throughout the day.  Each stage has different performers scheduled from 10am to 6pm:
Twin Stages at the corner of Mt. Vernon and E. Oxford Avenues – two stages go continuously, while one stage has performers, the other stage has the next entertainment being set up.
Homegrown Stage at the corner of Mt. Vernon Avenue and Bellefonte Avenues – all performers on this stage are from the Del Ray area.
Acoustic Stage in the Nature's Nibbles side yard located at Mt. Vernon and Stewart Avenues – this stage features music at its' best where individual artists perform playing their own music.
Grassy Knoll Stage at the Mt. Vernon Recreation Center – this stage features musicians from the Del Ray Performing Arts Center.
There will be a children's stage will the following line-up: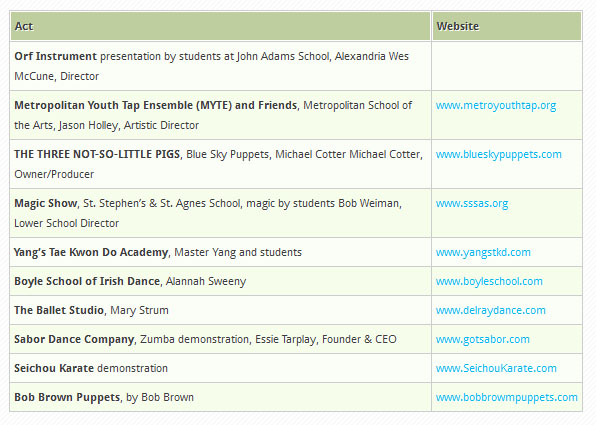 There will also be food vendors, so come hungry.
Here are a few more details that the amazing Del Ray Patch has pulled together about our neighborhood festival:
• Painter and singer-songwriter Alex Cook will be installing a mural on the E. Del Ray Avenue side of A Show of Hands throughout the day. You can view some of Cook's other murals on his website.
• Del Ray Artisans (2704 Mount Vernon Ave.) will host artist demonstrations throughout the day outside its gallery. Inside, check out the new "Del-Ray-Geous" exhibit. 
• St. Andrew & St. Margaret of Scotland Anglican Catholic Church (402 E. Monroe Ave.) is hosting a blessing of the animals from 11 a.m. to 2 p.m. All pets are welcome, even fish and snakes. There will also be animals available for adoption and an exotic animal petting zoo.
• The Salvation Army Women's Auxiliary (1804 Mount Vernon Ave.) is hosting a flea market and estate sale from 9 a.m. to 2 p.m. Saturday featuring furniture, collectables, educational games, books for kids and adults, stuffed animals, crafts and glassware. The market benefits struggling families living in Alexandria.
• Del Ray Variety (203 E. Custis Ave.) is hosting a Great Pumpkin Contest.
• The Neighborhood Pharmacy and Greener Cleaner are both closed Saturday for the festival.
• Evening Start will start serving food and pouring drinks at 11 AM so stop by for some mac and cheese, chef Jim's housemade hot sauce and brews such as Terrapin Beer Co. Hopsecutioner and Long Trail Brewing Imperial Pumpkin Ale. Plus, 6 bands (Kate Moran Band, Lucky Dub, Mud Rey, Andrea Pais, Miss Shevaughn & Yuma Wray and Rachel Burns) will be supplying the tunes in our back lot. Can't wait, Del Ray!