T.H.E. Baby Shower is coming to Alexandria tomorrow evening!
Event Highlights Include:
Baby Bump Photoshoot – Show off your baby bump or your new mini-me at our fun photo session
The Cravings Station – Indulge in delicious treats and refreshing beverages, and learn how healthy also can be tasty
 Just for Me Corner – Learn how to incorporate exercise and beauty in your new life as a mommy. Feel the importance of massage therapy — relax | relate | release
Mini-Seminars – An introduction to answers to your most pressing questions about being a parent — Connections to the experts who can guide you along the way
 Exhibitors – A diverse group of local and national companies offering an array of products and services for you and your little one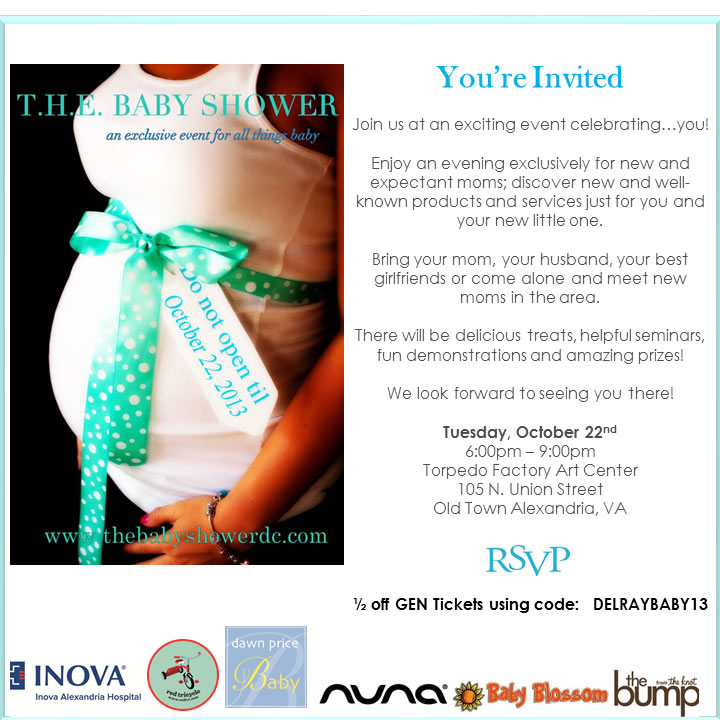 Delicious, Nutritious Baby Food: Why You Should Consider Homemade
Hosted by Lisa Barrangou, Ph.D., Author of RealSmart Baby Food
Dr. Lisa Barrangou discusses why you should consider making homemade baby food rather than relying on commercially processed foods for baby. She shares quick tips and strategies that will allow even the busiest of parents to create a well-balanced, diverse offering of meals for baby, without spending countless hours in the kitchen.
Simplifying Work-Life (& Baby!) Balance
Hosted by Katie O'Brien, Life Coach for New Moms
Work-life balance with a new baby can be tricky. Moms tend to put their needs, values and desires aside to care for their beautiful new baby (whether still in the womb or after baby has arrived). While babies do need a high level of care, that doesn't mean mommas don't.
Join Katie O'Brien, life coach for new moms, for a mini-workshop and learn how to make your work-life balance simpler. Learn how to easily blend your needs and wants with those of your career and your family so you can create a win-win for everyone.
The feeling of loss of control, while normal for new moms, is completely optional. Make the 24 hours in a day work for you instead of against you. By learning how to utilize time with a better awareness it can actually appear that you are shifting it to work for you, instead of against you. In this workshop begin to design a solution that will finally allow you to simplify your work-life balance with your new baby.
Cloth Diapering 101
Hosted by Cheri Chapman, Owner of Chapman Hill BABY
Why choose cloth diapers? There are so many reasons! Cloth diapers are soft against your baby's skin. Cloth diapers are also free of the many chemicals contained in disposable diapers. Our common sense tells us that cloth diapers are the ultimate in recycling because they are used again and again, not entering a landfill until they are nothing but rags. Of course, some people want more than this common sense approach–they want facts
Breastfeeding Basics
Hosted by Fleur May, MSN, RN from Inova