"Main Street & Nations Celebration" First Thursday is going to be held on the second Thursday, July 11th from 6 pm to 9 pm along Mt. Vernon Avenue and is put on by the Del Ray Business Association.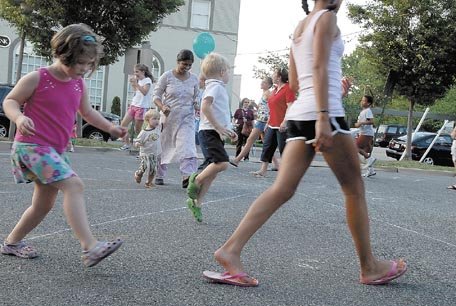 Activities tomorrow evening include:
 –    The traditional cake walk at the Farmer's Market lot at Mt. Vernon & E. Oxford Avenue!  Everyone is invited to participate.
 –    Musical entertainment will be by Rainbow Rock (www.rainbowrockband.com) headed up by our own Kate Moran located at the Farmer's Market Lot.
 –    As we celebrate our nation's freedom, we would like to recognize and help the Friends of Rocky Versace as they support the various projects associated with the Captain Rocky Versace Plaza & Vietnam Veterans Memorial which is located here in Del Ray.  They will have a table set up at the Farmer's Market and will be accepting donations throughout the evening; checks should be made payable to Friends of Rocky Versace.
 –   Independence Day celebrations aren't complete without an official watermelon seed spitting contest.  Wouldn't you love to be able to claim that title?? If so, stop by Pork Barrel BBQ who will be hosting this annual tradition at Mt. Vernon and E. Oxford Avenues.
–     Besides being one of our favorite City departments, the Alexandria Sheriff's Department always has lots of goodies to hand out at our First Thursday's.  This month, they will be the hit on the Avenue as they hand out free Slurpee coupons.  Come by to get one while supplies last! Unrelated to First Thursday but still happening on Mount Vernon Ave., 7-Eleven will be celebrating 7/11 by giving out free 12 oz. slurpees.
 –      There will be free face painting for the kiddos at the farmers market.
It promises to be lots of fun!