I'm so excited that the nice weather is back and our first First Thursday On The Avenue is this coming Thursday with the fun theme of "Cirque Du Del Ray"
The fun begins at 6:00 pm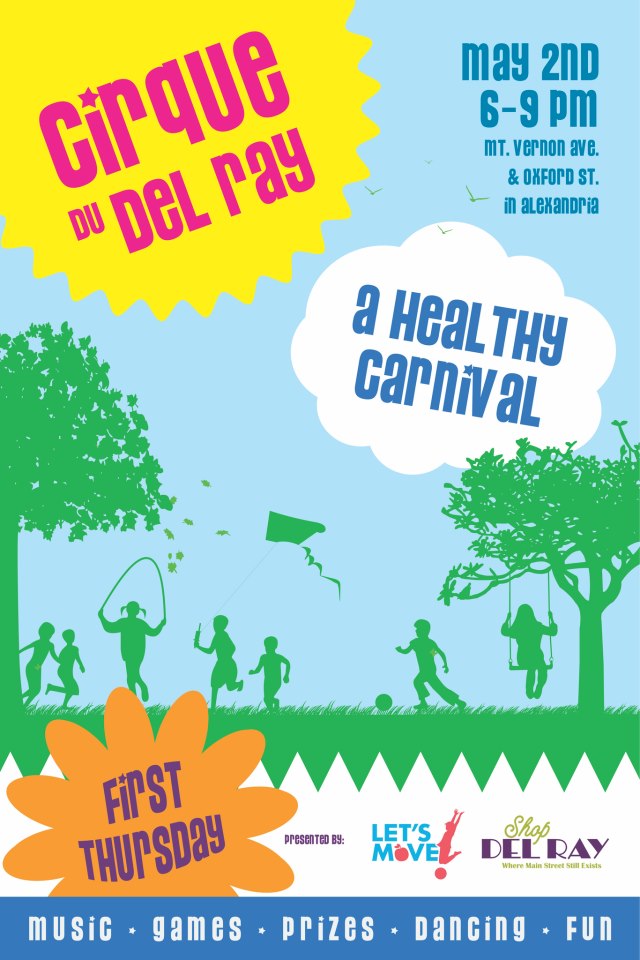 Kicking off the First Thursday series with the Health and Wellness themed Cirque Du Del Ray! Come join the fun at the corner of Mt. Vernon Avenue and Oxford Street in a healthy carnival atmosphere where kids and their parents can participate in a variety of activities:
Tentative Schedule of Events in Farmer's Market Lot (Mount Vernon & East Oxford)
6:00pm – Family Pictionary – "Healthy Foods" Osteopath Dr. Jennifer Lee & "Healthy KOZ": 2 teams of 5 kids each will compete for a prize!
6:20pm – Little Gym of Alexandria in Van Dorn: activities for kids from 6 and up
7:00pm – Crossfit kids (wear sneakers) – Mount Vernon Community School
7:15pm – Barre Body – Studio Body Logic
7:30pm – Family Yoga (bring a mat) & Pilates Boot Camp (bring a mat) – Mind the Mat & Dragon Pilates
8:00pm – "Let's Move" Del Ray Hula Hoop Party – DRBA
8:30pm – Closing Meditation (bring a mat) – Yoga & Daily Life Meditation
AND throughout the night, bring your bicycles for Velocity's BIKE RODEO in the parking lot next to Del Ray Variety at 203 E Custis! Their staff will check out your bike and get it ready for a fun summer!
Check out last year's Flash Mob!