I was recently introduced to Alexandria mom, Melissa LaSalle after enjoying her Blog What to Read To Your Kids. I like reading her great book picks for kids and her wonderful writing style. Melissa was kind enough to agree to do a blog post for me today for great Christmas books you may want to consider adding to your bookshelf. Enjoy the post and be sure to visit Melissa's blog!
My Favorite Christmas Stories, by Melissa LaSalle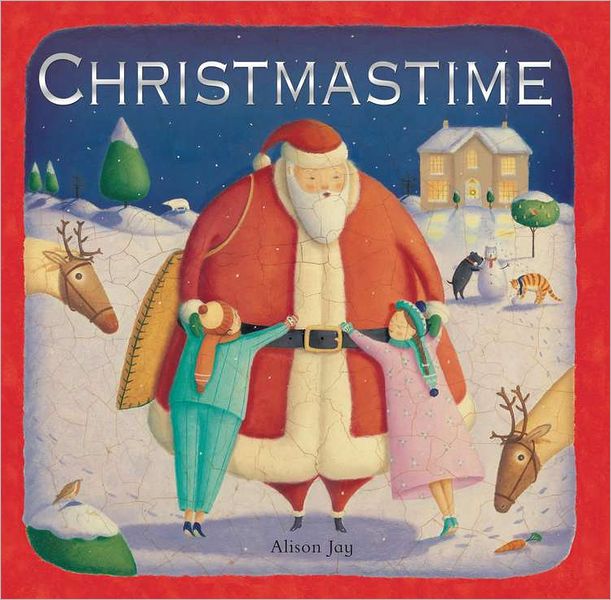 Every year around this time, I'll be mumbling to myself about how much I can't wait to buy some newly published Christmas book (this year, it's Alison Jay's nostalgic Christmastime), and my husband will pipe in: "The last thing our kids need is more Christmas books! They only read them one month out of the year!" Fortunately, he's only half serious, because even he can see the sheer joy on our children's faces when we unpack the large box of Christmas books each year. (It also helps that the book he remembers most loving as a kid happens to be the scratch-and-sniff classic The Sweet Smell of Christmas.) For my children as much as for myself, re-discovering these books every year is like re-acquainting ourselves with old friends (welcome back, Santa Claus, The World's Number One Toy Expert!). On several days last week, my kids actually forgot to request their 30 minutes of pre-dinner television, because they were buried under a mountain of Christmas hardcovers, my five year old preaching to his little sister, "This one is the greatest, you have to look at this one!" (referring, of course, to Merry Christmas, Curious George). For those of us who celebrate Christmas, these stories enrich the way we experience the season. Some offer just the encouragement our kids need to get in the spirit of giving (there's no shortage of snuggling in our house when we read the irresistibly sweet Fletcher and the Snowflake Christmas or Shall I Knit You a Hat?). Other stories explore what it means to be on the receiving end of a gift (what happens if Santa takes your request seriously and gets you that live penguin, like in the hilarious My Penguin Osbert?). Christmas stories give our children a working vocabulary for the unusual experiences and conversations they're bound to have this time of year (Alison Jay narrates the magic of The Nutcracker without the scariness, while The Jolly Christmas Postman plays with children's curiosity about how mail gets to Santa). Just yesterday, aboard our local Santa Train, I looked on as a child asked Santa how he gets himself up the chimney when he's finished filling the stockings. Santa responded with a quote from Clement Moore's famous poem: "and laying his finger aside of his nose, and giving a nod, up the chimney he rose"—to which my five year old, his eyes wide with astonishment, blurted out "that's what it says in my book!" (I am a bit of a freak about collecting editions of The Night Before Christmas; my favorite is the classic paperback I had as a child, still in print with illustrations by Douglas Gorsline, although those from Will Moses, Gyo Fujikawa, and Bruce Whatley are close contenders.) Finally, Christmas books help our children to believe. Whether it's listening to The Christmas Magic, where Santa feels the much-anticipated tingling in his whiskers on Christmas Eve, or The Polar Express, where the reindeer's bell still endures the next morning, these are the moments that inspire awe in our little ones. These moments are more enduring than any gift-wrapped present under the tree. When our children grow up and read Christmas books aloud to their own children, they'll be instantly transported back to the wonderment of their childhoods. So, here's my Christmas wish to you: may you fill your attic with Christmas books that you can enjoy as a family for many Decembers to come!
Favorite Christmas Books Mentioned Above (with recommended ages):
Christmastime, by Alison Jay (Ages 2-7)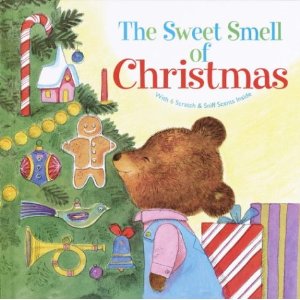 The Sweet Smell of Christmas, by Patricia Scarry (Ages 1-6)
Santa Claus, The World's Number One Toy Expert, by Marla Frazee (Ages 4-8)
Merry Christmas, Curious George, by H.A. Rey (Ages 2-5)
Fletcher and the Snowflake Christmas, by Julia Rawlinson (Ages 3-6)
Shall I Knit You a Hat? by Kate Klise (Ages 3-7)
My Penguin Osbert, by Elizabeth Cody Kimmel (Ages 4-8)
The Nutcracker, by Alison Jay (Ages 4-8)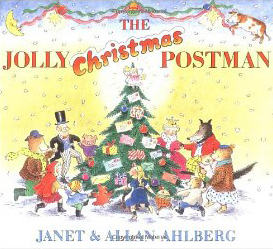 The Jolly Christmas Postman, by Allan Ahlberg (Ages 4-8)
The Night Before Christmas, by Clement Clarke Moore, illustrations by Douglas Gorsline (Ages 2-7)
The Night Before Christmas, by Clement Clarke Moore, illustrations by Will Moses (Ages 3-7)
The Night Before Christmas, by Clement Clarke Moore, illustrations by Gyo Fujikawa (Ages 2-5)
The Christmas Magic, by Lauren Thompson (Ages 4-8)
The Polar Express, by Chris Van Allsburg (Ages 7-12)