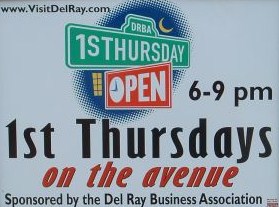 Please join us for the first of the "First Thursdays" on The Avenue here in our hometown of Del Ray slated for Thursday, May 3rd 2012 from 6 – 9 pm.  This year's theme for May is "Health & Wellness" which is sponsored by the neighboring health & wellness centers throughout Del Ray. Fun and interesting demonstrations throughout the evening at the Farmer's Market with live music courtesy of our own bands from Rock of Ages Music, terrific raffle prizes for children and adults, and some surprises along the way.
Bring the kids, grab the dog and your bicycle and join us for a fun night!
In conjunction with First Thursday, don't miss Mount Vernon Community School's Bike Rodeo from 6-8 p.m. at the school. Practice bicycle street smarts by going around obstacles and over ramps in a fun, safe setting. The rodeo is designed for children who already know how to ride a bike. Experienced instructors will guide participants, and bikes and helmets will be on hand for borrowing. Free helmets and safety equipment will be available to those who need them on a first-come, first-served basis. Children also may bring their own bikes for inspection by Velocity. The rodeo is funded by a grant from the Alexandria Be Safe Coalition and VITAL Wellness Center. In the event of poor weather or lighting conditions, rodeo times may change. For more information, contact the school at 703-706-4460.