Many of you may be like our family and starting to dig out of large amount of stuff that our kids received during the holiday season.  This was perfect timing to see the message from our amazing neighborhood champion of all good causes, Pat Miller, that A Show of Hands will be accepting toys through January along with gently used clothing and sports equipment for children in the village of Abricots in Haiti. A Show of Hands is located at 2301 Mt Vernon Avenue and is serving as a drop off point for donations in Alexandria.
Here's the information that I received from Pat that made me want to get into action help out these children:
Did you know that as a result of the earthquake, the orphan population of Haiti has more than doubled to close to 800,000? We are approaching the second anniversary of Haiti's worst earthquake and many are still without the most basic of needs. Please join us in making a difference in one small community in Haiti, Abricots, by donating goods to the children of this village. Abricots is a small fishing village located in the Grand d'Anse region of Haiti. Access to this part of the country is difficult, especially during the rainy season. Roads to the surrounding villages are in some cases non-existent. Many thousands of Abricots' residents are part of the post-earthquake mass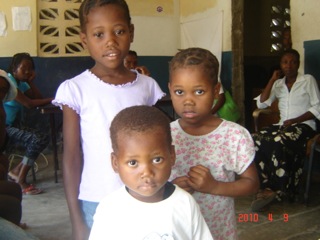 exodus out of Port-au-Prince. Included in this number are several hundred orphans that have been transplanted to this region. The four local orphanages are filled beyond capacity, and local families have reached out to host the remaining children in their homes. Grant money from the city council and aid organizations has run out, and many of these children do not have the most basic of supplies.
Give your gently used children's items a new life. Support Destination Abricots and your donations will go directly to the orphan and disadvantaged children of Abricots. Visit us at www.destinationabricots.com for more information.
Here's what we are collecting for ages 0 to 18 years:
 Basic needs: shoes, underwear, rain gear, school bags, lunchboxes, dress and everyday clothes (no winter), toiletries, and toys
Educational needs: musical instruments, board games, school and craft supplies, early reader and comic books, teacher's edition books, and translation dictionaries in English to French / Spanish to French.
 Sporting equipment: soccer and basketballs, goal nets and basketball hoop rings, sporting gear for these games like jerseys, shoes and socks.
 Uniforms: Has your child been in the boy scouts or girl scouts? Coordinate with other members of your child's previous troop to donate used khaki uniforms for newly established girl and boy scout troops in Abricots.
Was your child on a basketball or socer team in recent years? Coordinate with other members of your child's team to see if they would be willing to donate old uniforms. We are looking for 11 – 15 matching boys' jerseys in sizes medium and large and 11 -15 matching girls' uniforms in sizes small and medium.